Buy Here Pay Here Dealers, sign up for DRN's free VIN test and get vehicle location sightings on 10 VINs.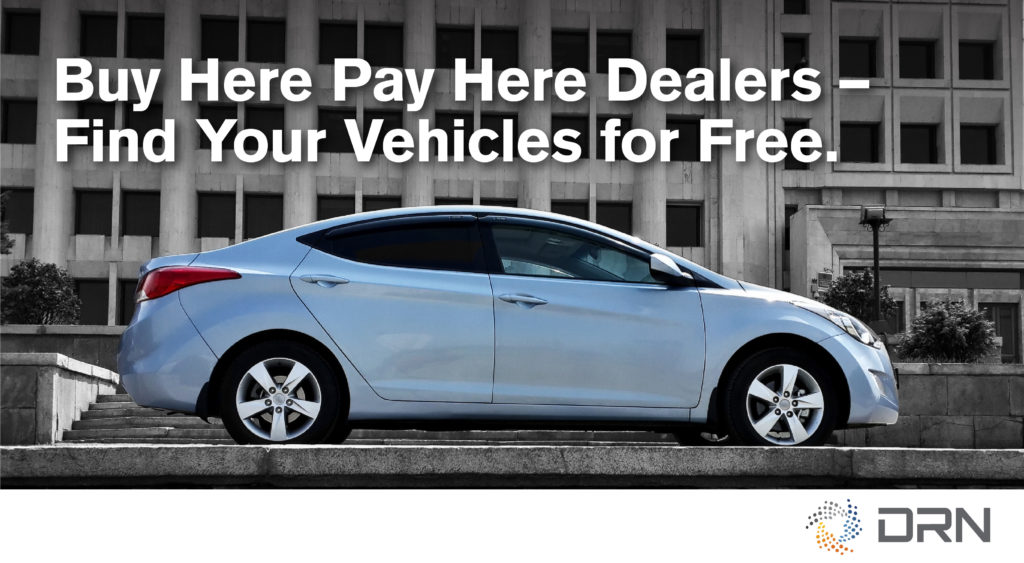 I talk every day to Buy Here Pay Here (BHPH) dealers and without fail, they all report the biggest challenge they face is vehicle recovery. Many turn to GPS, yet despite all the promises of GPS, it remains an opt-in technology that can be easily disabled. Ditto for starter interrupters.
More and more BHPH dealers are turning to vehicle location data and are saying that it's a better alternative to GPS. Because vehicle location data is gathered from publicly available license plates, it does not require anyone to opt in. License plate recognition cameras capture the plate image, plus the date, time, and location of the sighting. DRN has billions of nationwide vehicle sightings and gathers 5 million more sightings daily. With the most nationwide vehicle sightings, chances are we've seen your asset.
DRN makes sense of these sightings with powerful analytics that can tell you the best location and time to find your asset. To prove it we are offering BHPH dealers a free VIN test for up to 10 VINs. Once you submit your VINs and we verify DPPA permissible use, we will put our sightings to work looking for your VINs. Allow us two business days to conduct the search and send your results. DRN will provide a report that shows the total number of sightings for each VIN. Want to see more details? Sign up for DRNsights and get the vehicle sightings details including the plate image, vehicle image, address, date, and time of each sighting. And beyond recovery, DRN's vehicle location data and analytics, also known as DRNsights, helps to increase the value of your overall portfolio by telling you where your collateral is. Think about it – there is no better right party contact data than knowing where the car is sitting.
Restrictions: You must verify your company information and that you have permissible use to access vehicle sightings as indicated by the Driver's Privacy Protection Act (DPPA). Only one submission per company. There is no guarantee that sightings will be available for the VINs provided. You must subscribe to DRNsights in order to receive sightings details that include the plate image, vehicle image, address, date, and time of each sighting.