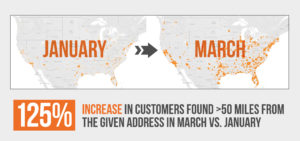 COVID-19 has had significant impacts on every individual, family and business across the U.S. and beyond. It's also created some trends among consumers that are useful for insurers to understand: 
Job loss has caused many people to relocate, either to find work in another location, move to a less expensive home or neighborhood, or stay with family or friends.
Some have moved to be closer to loved ones who may need their support.
Others have moved away from areas viewed as hotspots for the virus.
The explosion of employees working from home has led many to re-evaluate where they live since travel and commuting are not current concerns and businesses generally are becoming more accepting of remote work.
 We wanted to assess just how much the pandemic is impacting relocation, and how that affects the auto insurance, lending, recall and our other partner industries. We began conducting migration studies in March as the U.S. COVID-19 pandemic began. Our findings confirmed that fewer cars have been on the road and many people have relocated. This situation has enhanced DRN's ability to locate vehicles and owners and build their stories – information that can be critical for insurers.
 Hypothesis: As people stayed in place for extended periods of time, they may have done so with family or friends or moved to less expensive areas or where they could find work. While possibly planned as short-term changes, these moves often became longer-term depending on the individuals' family and job situations.
 Plan: Analyze the portfolio of one of DRN's subprime clients (nearly 205,000 VINs and borrower addresses) in January, February and March 2020 to find license plate scans that were more than 50 miles from borrowers' stated addresses.
 Findings: Our analytics showed a significant increase in borrower migration during the pandemic. In January, movement of more than 50 miles from the stated address was 4.2% of the portfolio. By March, it had grown to 10.5% – an increase of 125%. 
 How can this help the insurance industry? First and most simply, the data can help you locate customers who may have moved during the pandemic. Establishing customer contact during this uncertain period is invaluable – not only in terms of your business but also in your ability to provide a personal, empathetic level of service to your customers. Additionally, understanding location, career and other transitions may prove financially valuable. For example, we've seen an increase in construction and contractor work during the pandemic, either as people's primary or supplemental source of income after furloughs or layoffs. For you, this may mean that policies and vehicles should be reassessed for commercial coverage.
 It's critical for insurers to know your customers to ensure you're rating them appropriately and keeping policies up-to-date. Learning about location, employment and other life changes sooner than later is critical to your ability to best serve them while also supporting and protecting your business. 
 If you're interested in learning more about how a DRNsights migration study can help your business both throughout COVID-19 and recovery, contact info@drndata.com.