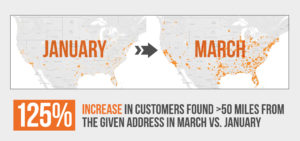 DRN began conducting migration studies in March as the COVID-19 pandemic began to prompt stay-at-home orders and business shutdowns across the U.S. Our findings confirmed that fewer cars have been on the road and many people have relocated, either for jobs, financial reasons, to move away from COVID "hotspots," or to shelter-in-place closer to family and loved ones. This change in behavior has enhanced DRN's ability to locate more vehicles' residential addresses, which are critical for auto recalls.
Hypothesis: As people stayed in place for extended periods of time, they may have done so with family or friends or moved due to financial impacts. While possibly planned as short-term changes, these moves often became longer-term depending on the individuals' circumstances. 
Plan: Analyze the portfolio of one of DRN's clients (nearly 205,000 VINs and borrower addresses) before COVID and during COVID to find how many of those vehicles were seen by Licence Plate Recognition (LPR) more than 50 miles from borrowers' stated addresses.
Findings: Our analytics showed a significant increase in borrower migration during the pandemic. Before COVID In January, we found that only 4.2% of the portfolio vehicles were seen consistently at a new residential address that was greater than 50 miles from the stated address. By March, that number had grown to 10.5% – an increase of 125%.  
How is this valuable for auto recalls? Simply put, the pandemic has created an environment that may make it easier and faster to locate vehicles and owners who may be impacted by critical recalls. DRN's real-time data can accurately locate vehicles and owners who may be in a different location than what's indicated through the VIN or the owner's listed address. This can help OEMs focus recall resources where they have a greater chance of success – and do it faster than by using only traditional or public records. This unique data makes your recall outreach efforts more efficient and will help increase completion rates.  
If you're interested in learning more about how a DRNsights migration study can help you continue to locate and repair critical recalls to keep drivers and others safe throughout and after COVID-19, contact info@drndata.com.