As North America's premier commercial license plate recognition (LPR) data provider, we offer the richest data set and analytics available. For insurers, our extensive database of 18 billion license plate scans – which include addresses and date/timestamp – can play a major role in fraud cases from vehicle location to collusion, auto theft, workers comp and garaging. With a fleet of over 176,000 trucks and 127,000 trailers, Repwest Insurance has been using DRN's Event Links investigative solution since 2018 and is successfully reducing liability and saving money by identifying and proving fraud for rental car & truck companies in the US.
Repwest Insurance Success Stories
In each of the following examples, claimants made fraudulent vehicle damage claims to U-HAUL. Using Event Links, Repwest successfully defended and disputed each of the claims, saving them tens of thousands of dollars.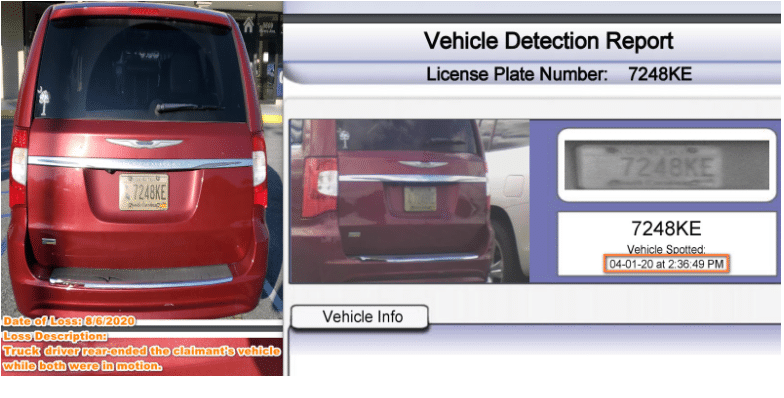 Example 1: In this case, the claim was made in August 2020 that a U-HAUL truck rear-ended the claimant's vehicle while both were in motion. LPR photos from April 2020 show the same damage, proving it was pre-existing.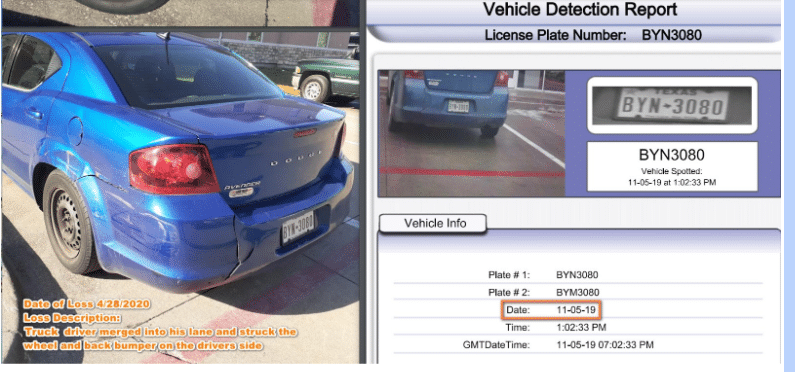 Example 2: This claim was filed in April 2020 and stated that a U-HAUL truck merged into the claimant's lane, striking the wheel and back bumper on the driver's side. Photos taken in November 2019 show the same, pre-existing damage.
How can Event Links and Picture Proof work for you?
Contact us about

Event Links

and we'll show you how it will quickly become your new favorite fraud investigation tool.

Not sure you're ready for Event Links? Check out Picture Proof for generating image reports on VINs you submit.

Review all relevant vehicle images for damage evidence

Approve / disprove claims with 100% certainty

Check commercial use of a private vehicle on your books
The bottom line?
Event Links can help identify and prove fraud, reduce your liability payouts and ultimately save your business money. Take it from Repwest Insurance and our many other insurance customers putting our LPR data to work today.
Want to learn more or see a demo? Contact us at info@drndata.com.