Challenge: A car wash needed to improve target marketing efforts to reach new customers.
This car wash operates several locations across the Dallas-Fort Worth area. Former marketing outreach efforts included mass mailing of coupons and special offers based on zip code alone. The business generated from these broad, untargeted efforts was lower than desired, usually resulting in a 2-4% offer redemption rate. They wanted to explore how to grow the success of their marketing activities through more targeted customer outreach.
Solution: Use DRN's LPR and data capabilities to effectively reach potential customers, resulting in high offer redemption and repeat visits.
DripDrop Marketing, the car wash's direct mail marketing partner, worked with DRN to place LPR camera systems at five locations. These cameras captured license plate data as well as date, time and location. Each location used three cameras – one facing the street and two more at the entrances to car wash tunnels.
For a nine-week period in July through September 2020, DRN's LPR cameras scanned and captured vehicle information. This vehicle information was used to generate a comprehensive record on each. DripDrop took these records and separated the prospects (vehicles captured driving by the car wash) from the clients (vehicles captured entering a car wash tunnel). Once the prospect list was separated from existing clients, DripDrop added filters such as number of sightings, distance from car wash location, age, household income and others to narrow down the car wash's mailing list even further, producing a targeted contact list. This enabled the car wash to focus its direct mail campaign on prospects who were most likely to redeem their coupons.
Results: By targeting marketing efforts using LPR data, the redemption rate for the coupon campaign jumped to an average of 8%, with individual locations seeing even greater returns and repeat business.
Use of LPR data translated directly into revenue for the car wash, generating new customers who often became repeat customers. While the campaign's average coupon redemption rate across all locations was 8%, some stores reached as high as 12% or even 38% redemption. They also used the cameras to track repeat visits by these new customers and saw that more than 60% of them returned at least once.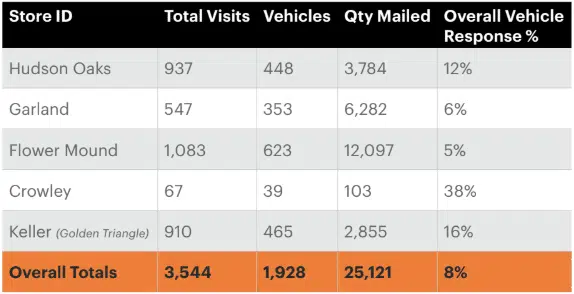 "We tested the DRN data across six locations with our plastic postcard program and were blown away by the results. DRN's data capture enabled us to target drive-by traffic. We saw a new customer response rate of 12.4% inside a 3-mile radius, and a whopping 6% as far out as 20 miles. We're extremely pleased with these results."
Randy Townsend, DripDrop Marketing
How DRN Supports Marketing Efforts of Commercial Businesses
DRN's vehicle location data and its DRNsights analytics platform have revolutionized the vehicle finance, repossession and insurance industries by helping recover more vehicles, avoid charge-off losses and detect fraud. Now, retailers and other commercial businesses are using DRNsights data to learn more about current and potential customers and more effectively target their marketing efforts. Businesses can also use the data to secure, protect and control access to their properties and help with loss prevention.
  Vehicle location data gathered nationwide all day, every day through powerful license plate recognition (LPR) technology
  220 million  vehicle sightings added monthly, which include date, time and location
  Historical database of more than  20+ billion license plate scans to help build full stories of vehicles and their owners
Real data. Real analytics. Real results.
To learn more, contact Cody Goyer at cody.goyer@motorolasolutions.com or 918-809-3831