DRN and MVTrac have joined forces to offer lenders a compliance-focused, automated platform that uses the richest LPR data set in the nation while leveraging the largest network of agents of any vendor in the U.S. In an Auto Remarketing webinar, Brad Davis, and Naz Akel of MVTrac, presented an overview of MVTrac, including its proprietary Case Claim tool and its unique capability to ensure compliance and reduce risk for clients by eliminating wrongful repossession.
Case Claim works in real-time to integrate with a client's system of record. This provides seamless access to active cases and actively monitors account status changes. When an agent locates a hotlist vehicle, he can enter it into MVTrac for active status confirmation. MVTrac then not only confirms the vehicle is ready for repo, but ensures the assignment is given to an agent authorized by the client … all while recording date, time and user. This entire process takes just a few seconds, helping eliminate wrongful repossession and keeping agents safe with faster authorizations.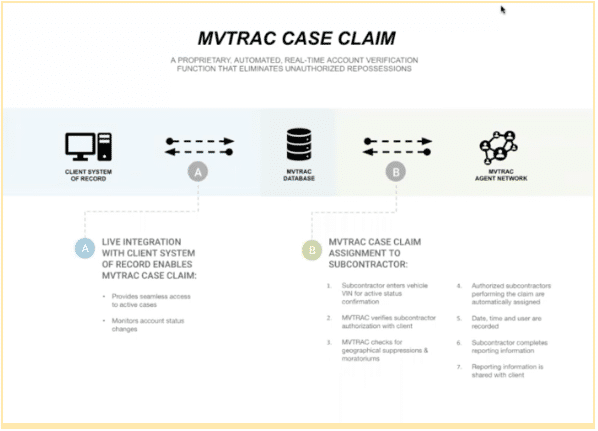 Adding to MVTrac's strong compliance solution are its strict standards when onboarding new agents. MVTrac ensures every agent meets the standards of every client by applying the most rigorous standards to all.
MVTrac also benefits from the unique ability to reference the largest license plate image database in North America, combining its 6 billion historical LPR scans with DRN's 10 billion. And that number continues to grow. MVTrac's agent footprint also is growing through its partnership with DRN, doubling in 2020 to 600 and expected to reach 900 in early 2021.
Brad and Naz spoke with two MVTrac users, John Urness of Bridgecrest and Dion Gage of Exeter Finance. Both John and Dion spoke not only of MVTrac's platform and capabilities, but also of their outstanding service and partnership. Both have experienced higher recovery rates and no wrongful repossessions using MVTrac.
If you're ready to learn more about how MVTrac and DRN can increase your efficiency and compliance, please fill out our contact form and someone will reach out to you shortly.