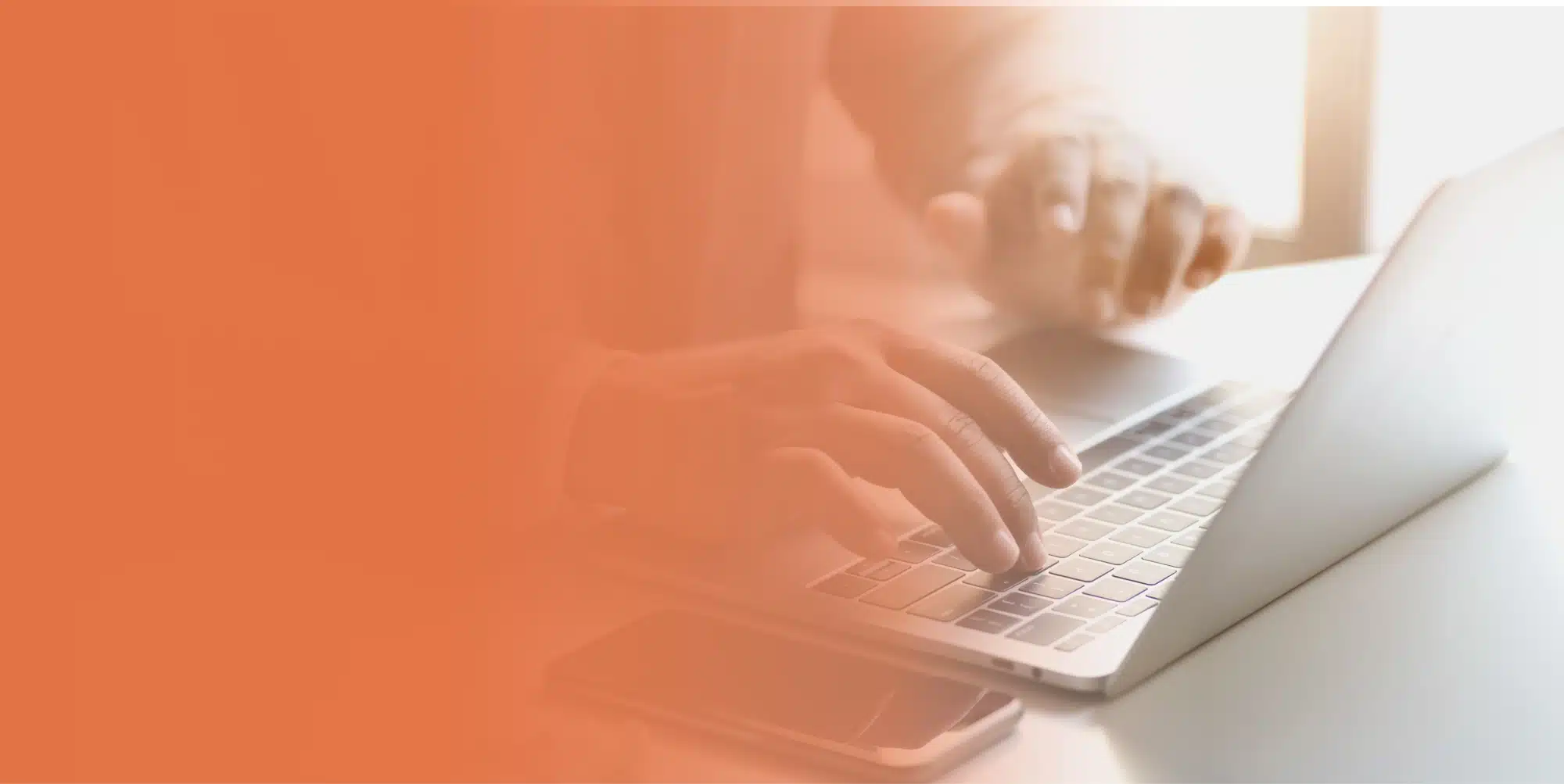 ENTERPRISE EDITION
Take advantage of the full DRNsights for Insurance suite to prevent premium loss, thoroughly investigate claims and successfully fight fraud.
DRNSIGHTS FOR INSURANCE – ENTERPRISE EDITION
DRN's realternative data platform uniquely combines billions of license plate recognition records with powerful, patented analytics to build full vehicle histories and real-time stories. You can take this data to the next level with enterprise licensing, which offers a full suite of solutions developed with insurers in mind.
Learn more about Enterprise Edition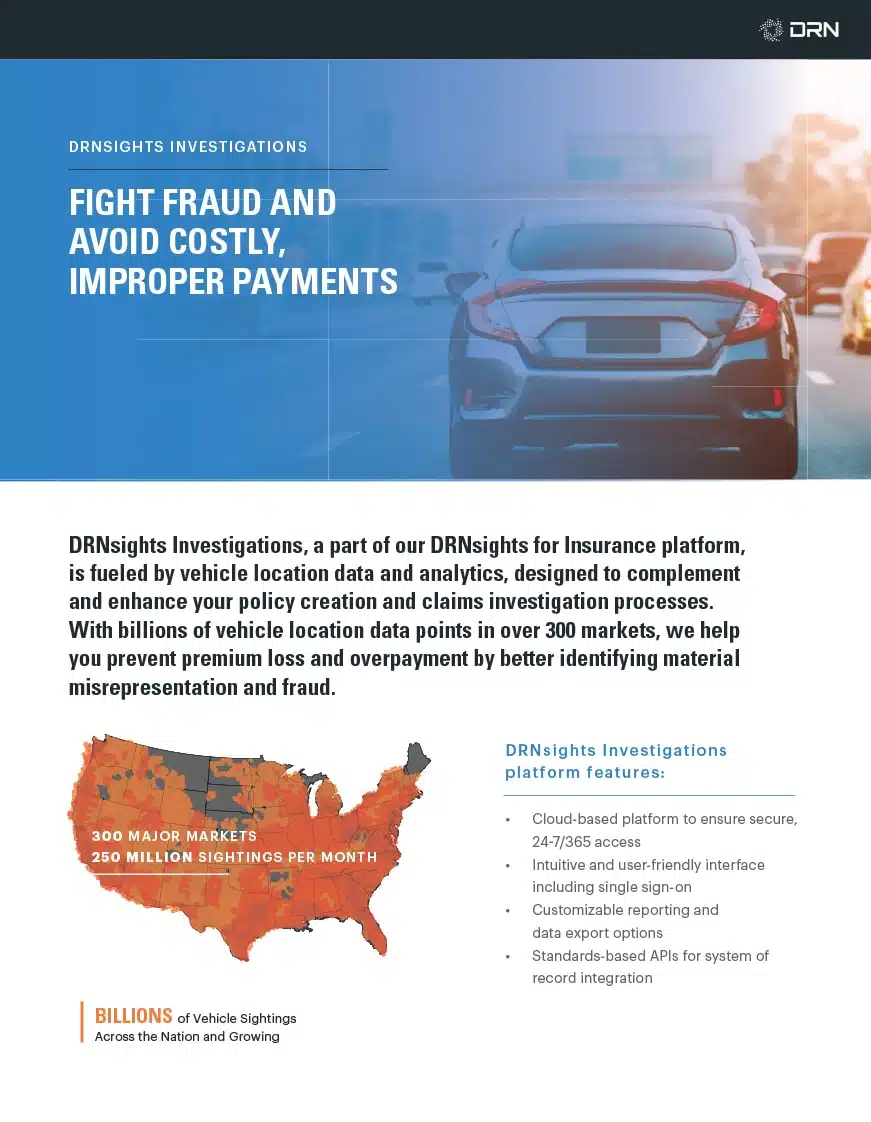 DRNSIGHTS INVESTIGATIONS
Includes all LPR data search and report options currently found within Event Links, along with many new features and functions, including:

VEHICLE MONITORING
Receive real-time hit email alerts

REPORT LOCKER
Save search results and reports

LINK EXPLORER
Access pre-coded analysis and modeling for multiple address searches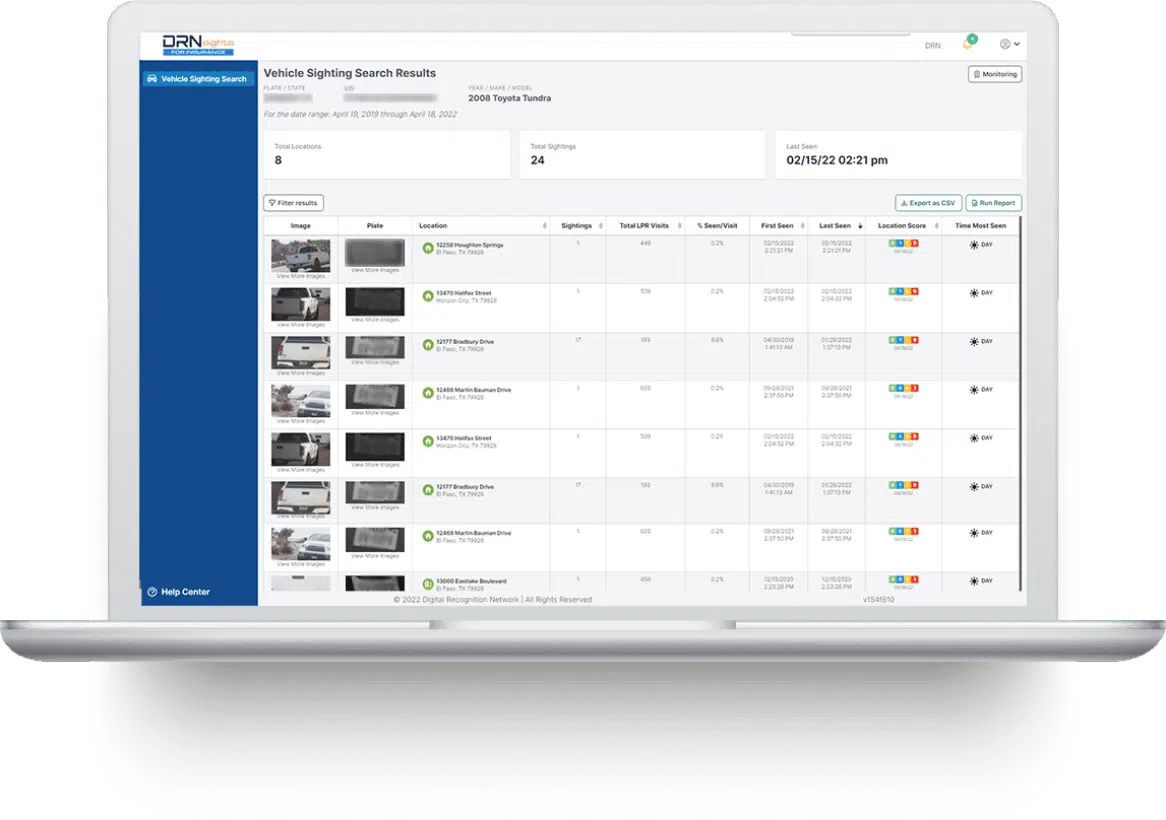 VEHICLE SIGHTING SEARCH
View all historical vehicle location details

PICTURE PROOF
Focus on privacy-protected vehicle images

ADDRESS ANALYSIS
Search for LPR sighting data based on multi addresses
"The quality of the product, as well as the knowledgeable staff, make this platform and company priceless to have. Amazing asset for your cases!"
– Jay Marin, President of Specialized Investigations Consultants, LLC
UPGRADE TO ENTERPRISE EDITION
AVAILABLE DIRECT FROM DRN





Subscription Licensing Options


Monitoring for Stolen Vehicles

Underwriting Products (Add-on)
Garage Aware
Radius Response
CV Detect



Coming Soon
Claims Triage Fraud Indicators
Damage Detection
Rideshare Detection



UNDERWRITING PRODUCTS (ADD-ON)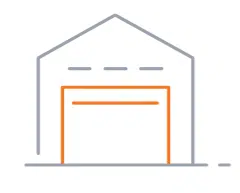 GARAGE AWARE
Verifies vehicle location at time of policy inception using real-time LPR data and image database. Identifies potential garaging fraud by comparing true vehicle location compared to reported address.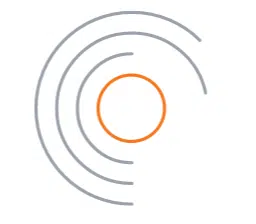 RADIUS RESPONSE
Helps verify accurate radius class designations on policies and determine relative loss cost impact and potential radius class misclassification.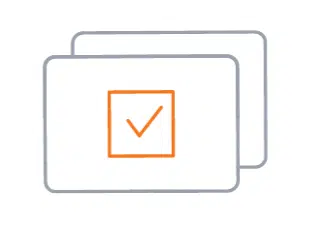 CV DETECT
Uses vehicle images to identify commercial use of a vehicle and rideshare indicators.
NEW FEATURES COMING SOON: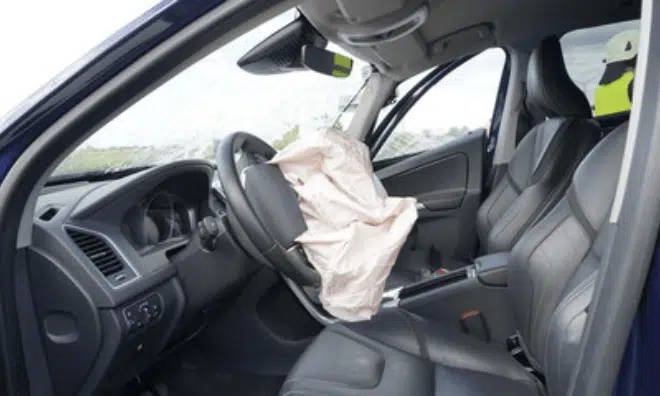 Claims triage/fraud indicators
Provide insurance claims departments with access to DRN's real-time database during claims process to uncover potential fraud.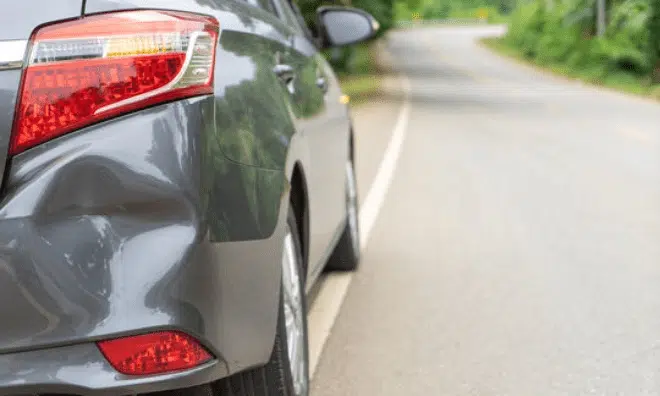 Damage detection
Enables insurers to quickly and accurately review LPR images for indications of vehicle damage.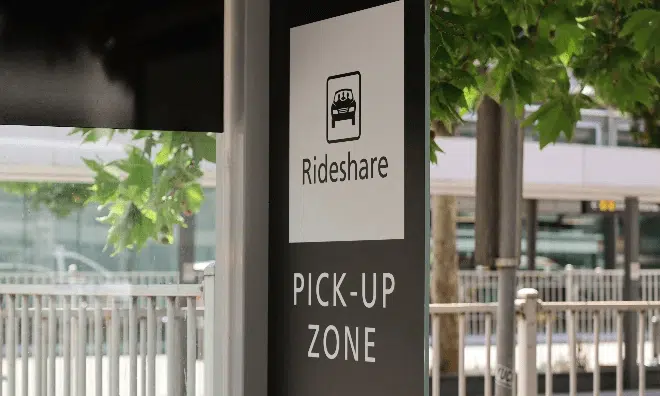 Rideshare detection
Enables insurers to quickly and accurately review LPR images for indications of a vehicle being used for rideshare services.

Contact us today to schedule a free demo