Vehicle sightings put the brakes on pre-existing damage claims. 
At least 10% of property and casualty claims are fraudulent, and the public is paying for it to the tune of $30 billion per year. In 2015, Texas alone reported 13K fraud reports worth over $8 million dollars. Among the many types of fraud, claims for pre-existing damage rank as one of the leading types of insurance fraud. In an all too familiar scenario, Joe was low on cash and needed a quick way to make some scratch. He recently wrecked his car backing into a pole. After talking to a friend, he realized he could buy full coverage insurance, then report the vehicle was in a single-car accident the next day. Bam…instant cash. This is classic pre-existing damage fraud; just one of the many types of fraud that's driving rate increases for all us up to an additional $300 per year. Thanks Joe.
Vehicle Sightings Tell the Real Story
While carriers rely on a variety of data to determine pre-existing fraud, there is only one way to truly verify whether a vehicle has pre-existing damage: a sighting of the vehicle taken before the claim was made. DRN has those sightings as part of the vehicle location data the company gathers and serves up to insurance carriers to research claims. We gather over 100 million sightings a month nationwide – sightings that include details like date and time, location, license plate and vehicle images. Recently I attended a trade show and I was approached by a client that wanted me to research a vehicle that her adjuster suspected had preexisting damage. A quick search of our Event Links SIU investigation tool returned a photo of the suspected damage prior to the reported accident.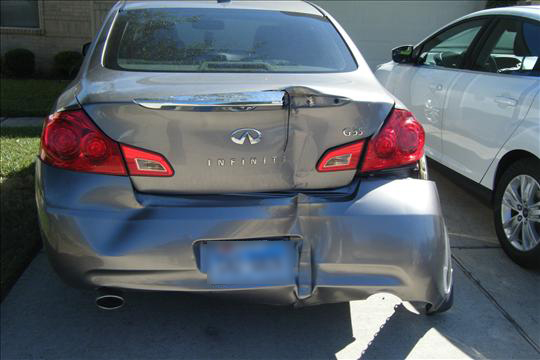 Seeing is Believing
Often times, insurance carriers rely on police reports to determine pre-existing damage, a time-consuming process that requires even more time to get the results from the reports. Not very efficient when you are sitting on a claim. And when it comes to pre-existing damage investigation, police reports are no match for skilled adjusters that know to check for things like rust, mismatched paint, signs of old repairs and other damage. They can even check electrical system problems that could indicate flood damage.
Before issuing a policy or a claims check, carriers would do well to check for pre-existing damage using vehicle sightings and analytics from DRN. These are sightings the carriers can't get anywhere else – sightings that prove that a picture is indeed worth thousands of dollars.